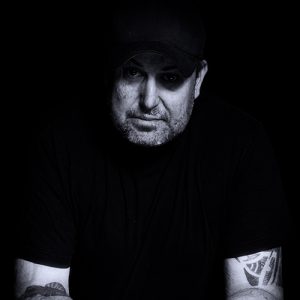 Der Kölner Produzent und DJ sprang an die Front der zeitgenössischen Tanzmusik im Jahr 2001 mit seiner ersten Single "Secrets of Loneliness" auf Clubbgrove Records.
Aber die Geschichte beginnt früher ….
Die ersten Schritte nahm er als Mitglied des Hip-Hop Projekts "FCKW". Im Jahr 1997 wurden das Projekt mit der Auszeichnung "Best Newcomer" von dem deutschen Musiksender "VIVA" geehrt.
Anfangs geprägt von Hip-Hop & Breakbeat, welche die lokale Musikszene überhäufte, kam das Interesse für Bands wie "Depeche Mode", "Front 242", "Underworld" etc….die sein Interesse für die elektronische Musik weckten. Klassische House Labels wie "Touche Rec", "Fresh Fruit" und "Work Rec" trugen zu dem Wandel herbei.
Im Jahr 1999 gründete er die "North Shore Music Construction", die sich in der Produktion verschiedenster elektronischer Musik spezialisierte. Veröffentlichungen auf Kompilations wie z.b. Kontor – Top of the Clubs, Cafe del Mar, Good Bye Ibiza – Sound of the Closing Parties, etc. "Secrets of Loneliness", "Captive Child", "Forever", "Green Room "," My Pain "und" Details "wurden von Labels in Europa, den USA lizensiert. Seitdem findet man Barbaros 'Titel in DJ Sets rund um den Globus.
Neben seiner Resident Tätigkeit in der lokalen Clubszene, reist Barbaros nationale und international, um seine Sets zu präsentieren. Seine Sets begeistern Clubber auf der ganzen Welt. Argentinien, Türkei, Ukraine, Spanien und USA waren nur ein paar Stationen. Events wie Nature One, Ruhr in Love, Atmospherica sowie Auftritte in verschiedenen Radio-Shows.
2003, entscheidet er, seine Sounds selber zu präsentieren: Mit 2 Freunden gründet er sein eigenes Label, THREE Elements. Nach 3 erfolgreichen Jahren war es Zeit für einen Wechsel. 8 Jahre später wird es weitergehen mit der Label Arbeit. Im Jahr 2011 wird NOREIRA RECORDS geboren.
Die Geschichte wird immer weiter gehen ……..
Barbaros – Secrets of Loneliness – 

Clubbgroove Records

Barbaros

Forever – More Music

Mace – Break – Globe Music

Barbaros & Felusch – One day in our Life – Unvirtual Music

Barbaros – Green Room – Three Elements Recordings

Barbaros – My Pain EP – Three Elements Recordings

Barbaros – X-Type – Unvirtual Music

Barbaros – No One – Pastdeux Rec USA

Barbaros – Details (Album) – Stereoflex Records


Barbaros – Your Green Eyes – Pastdeux Rec USA

Barbaros & Fabrice Ehret – Derby – Stereoflex Records Barbaros – World Series EP – Noreira 

Records

B.INC – Twisted – Noreira Records

Barbaros – Bounce – Earthgrooves Records


Barbaros – Bounce THE REMIXES – Earthgrooves Records

B.INC – Strangers in the fight – Noreira Records


Barbaros – Olivier Malone – Chasing Stars – Unvirtual Music

Sterosyn – Shammers – Noreira Records

Barbaros – The Carmel – Noreira Records


Barbaros & Bankewitz – Together – Noreira Records

Stereosyn – Kings Cross – Noreira Records

Barbaros – Vega EP – Noreira Records

Barbaros – Cloud City – Noreira Records

Barbaros – Manhattan Look – Noreira Records

Barbaros – SEN – Noreira Records


Barbaros – Mirasol – Noreira Records
MOD – Hangin on – Barbaros Hangin Loose RMX – ZYX Music
Tom Borijn – Funky Music – Barbaros Funky Ass RMX – Clubbgroove White

MOD – Summer DeLuxe – Barbaros Sunrise at Waimea RMX – ZYX Music

UP pres Eigenart – Free your mind – Barbaros Oldskool RMX – Clubbgroove

Freifall – Harte Worte – Barbaros 4 Deeds Street RMX – Stereoflex

Uli Poeppelbaum – Progressiv – Barbaros Prog mix – Stereo Poems

Marcus Decay – Pearls – Barbaros call him Micki RMX – Three Elements Recordings

Uli Poeppelbaum & Miss Peppermint – Schlaraffenland – Barbaros Inc RMX – Stereo Poems
Bodo Felusch – Hobbybitch – Barbaros Eclipse RMX – Unvirtual Music

Eigenart – Wenn die Dämmerung – Barbaros in Search RMX – ZYX Music

Orquesm – Teknoot – Barbaros French Eyes RMX – Unvirtual Music

Leach – Eve by dawn – Barbaros Remix – Unvirtual Music

Bodo Felusch – Pancake – Barbaros Butter & Syrup RMX – Unvirtual Music

Sebastian Davidson – Sunday Morning – Barbaros & Sandrino RMX – NightDrive Music

Jon Aguilar feat Sonia – Elena – Barbaros Dub & Vocal RMX – Stereo Poems

Eigenart – Gattaca Identify – Barbaros 2020 RMX – TriBoro Affairs

Philipp Konnert – Birkenstrasse – Barbaros Oldskool RMX – Noreira Records

Marcus Decay – Naked Truth – Barbaros RMX – Earthgrooves

Corti Organ – J.LU – Barbaros RMX – Fenology Records

Fetzer & Hennig – Disfruta tu vida – Barbaros RMX – Noreira Records

Bodo Felusch – H.E.E.e.Y – Barbaros RMX – Noreira Records

Sounom – Nous Redisons – Barbaros 2020 RMX – Noreira Records

Karlo Weinberg – Dark Sun – Barbaros 2020 RMX – Noreira Records

Moinzen & Gothen – Valentine – Barbaros Chicken and Beer Remix – Noreira Records
Marcus Decay – Shambles – Barbaros´ lost for years Remix – Noreira Records

D-Chai – Point Break – Barbaros 2020 Remix – Noreira Records

D-Chai – Tayoe – Barbaros 2020 Remix – Noreira Records